The previously detailed Persona 4 the Golden Animation event took place yesterday, and Dengeki has written an article illustrating what occurred during the event.
Participants at the event were chosen via a lottery from application tickets included in volumes 1-3 of the Persona 4 the Golden Animation Blu-ray/DVD releases.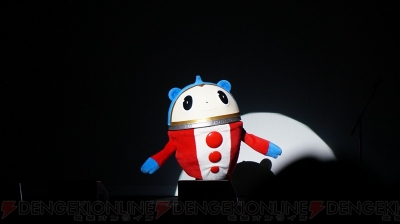 4,600 people were chosen to attend the event, which hosted: plays acted by the Persona 4 voice actors, quiz competitions, a talk show and a surprise, small live performance by Persona series musicians Shihoko Hirata, Lotus Juice and Yumi Kawamura.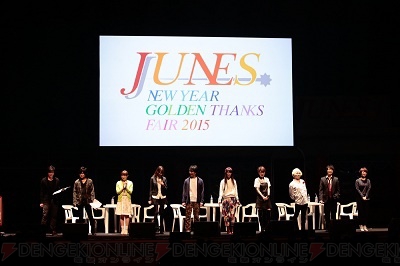 The opening act had all the voice actors perform a five minute, comically  tinged recap of the events of Persona 4 the Golden Animation, accompanied by a projector (shown in the image above) that displayed illustrations of the story events.
The performers, from left to right:
Daisuke Namikawa (Yu Narukami)
Showtaro Morikubo (Yosuke Hanamura)
Yui Horie (Chie Satonaka)
Ami Koshimizu (Yukiko Amagi)
Tomokazu Seki (Kanji Tatsumi)
Rie Kugimiya (Rise Kujikawa)
Romi Park (Naoto Shirogane)
Kappei Yamaguchi (Teddie)
Madono Mitsuaki (Tohru Adachi)
Kana Hanazawa (Marie)
Projector illustrations accompanying the play included the following: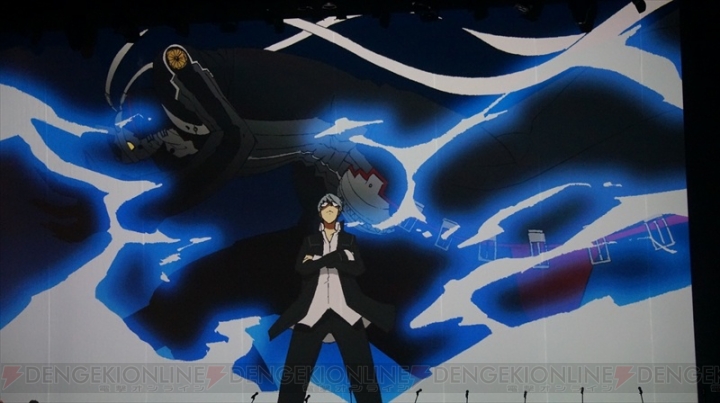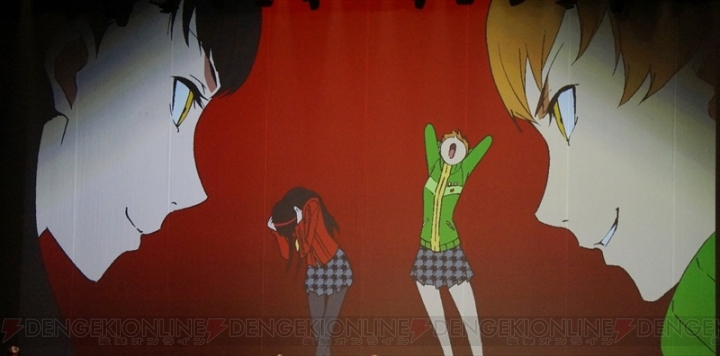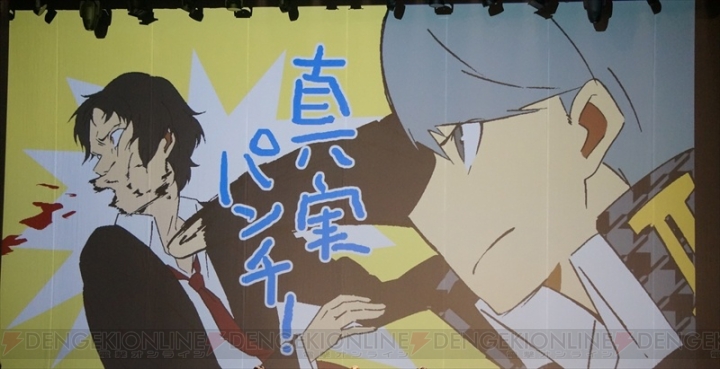 (More can be found in the Dengeki article.)
Following the play, the stage dimmed and artist Hirata Shihoko appeared, performing the songs for the opening of P4GA and P4G, respectively "Next Chance to Move On" and "Shadow World."
The stage was then made to resemble Persona 4's Junes rooftop food court, where the actors reappeared to a round of applause. There, they carried out a talk show and answered questions from fans.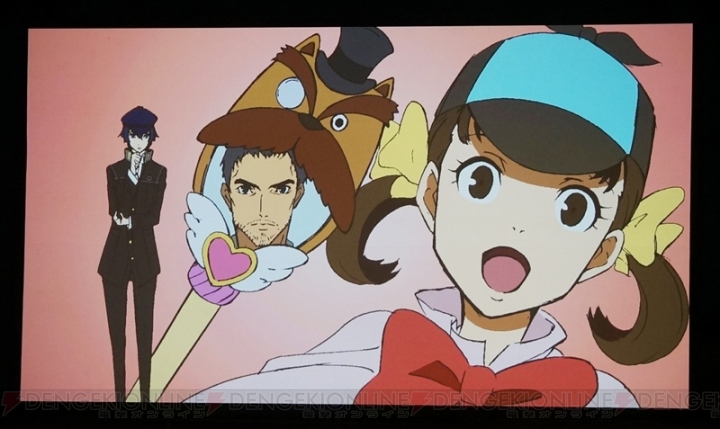 Subsequently, an original scenario drama read took place where an investigation into Tohru Adachi's supposed murder, involving cabbage, was carried out by Magical Detective Loveline (aka Nanako Dojima).
A surprise appearance, on stage, by voice actors Akemi Kanda (Nanako Dojima) and Ishizuka Unshou (Ryotaro Dojima) took place accordingly.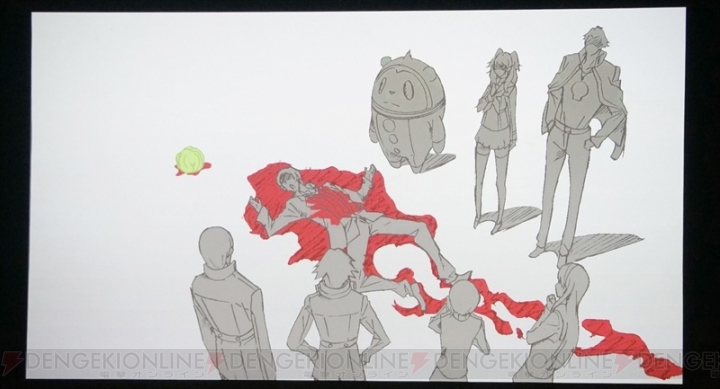 A second original scenario play followed, involving the Persona 4 Golden scene, during the ski trip, in which Yu Narukami finds himself alone with other characters after being separated from his group.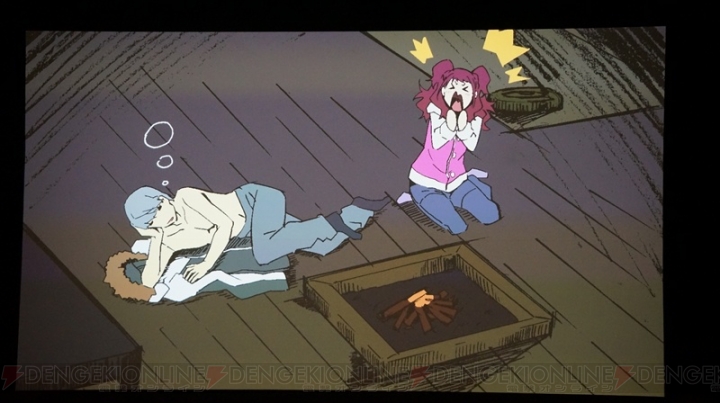 A quiz competition between the voice actors then took place, where they were each divided into teams of two—such as "Team Green and Red" for Horie and Koshimizu, or "Team Cabbage and Poem" for Mitsuaki and Hanazawa—to compete for prizes, of which one was a 20g gold plate with a market value of 110,000 JPY.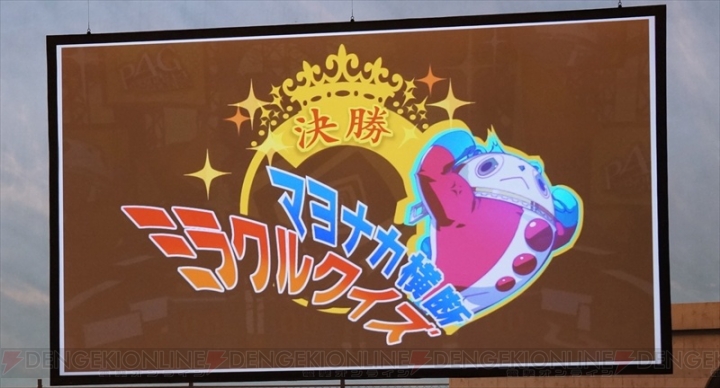 In the end, "Team Loincloth Detective" of Romi Park (Naoto) and Tomokazu Seki (Kanji) won.
Later on, Shihoko Hirata reappeared on stage to perform the Persona 4 the Golden Animation ending song "Dazzling Smile." Afterwards, surprise guests Yumi Kawamura and Lotus Juice appeared to a big cheer from the audience, and the three musicians proceeded to perform original Persona 4 the Animation songs "Beauty of Destiny" and "Key Plus Words."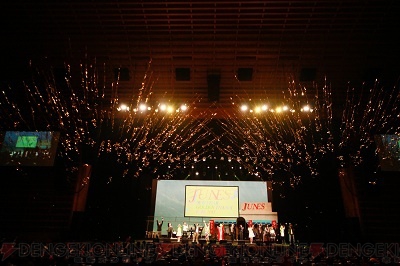 The event ended with all of the voice actors and performers lining up to sing the "Junes Theme" along with the audience.
— Dengeki